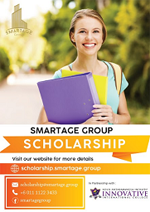 SmartAge Group Elite Scholarship
SmartAge Group (SAG) proudly to announce the SmartAge Group Elite Scholarship programme for the Malaysian students who are interested to pursue their studies in SmartAge Group School of Hospital with Innovative International College (IIC). This scholarship is 100% fully sponsored by SmartAge Group.
Scholarship Description
Course Level:
Scholarship is available to pursue the IIC SmartAge Group School of Hospital .
Requirement :
The scholarship is offered to first-year student pursuing Diploma in Hotel Management in IIC.
Scholarship are limited in number, and subject to availability.
Must not be bonded or recipient of any other scholarship or financial aid or award/scholarship/bursary from other educational institutions or organizations.
Strong leadership qualities, excellent team-player, excellent in both extra-curricular activities, sports and clubs (preferable).
Recipients are required to maintain high academic standards and exemplary behaviour throughout their studies.
If the scholarship recipient fails any subject during the program, the scholarship is forfeited and the scholarship recipient is liable for the tuition fees and costs of subsequent subject.
Scholarship may be terminated at any time in the event of gross misconduct or failure to meet the required academic grades.
Scholarship processing fees is RM 30. Payment make to :
CIMB Bank | SmartAge Group Sdn Bhd | 8009884087
How do I apply for SmartAge Group Scholarship
Application is simple and straightforward. Here's the application process.
STEP 1
Fill in the Scholarship Application Form and supporting documents as follow;
SmartAge Group Scholarship Application Form (download the form here)
Copy of SPM/ O-Level result
Copy of SPM/ O-Level's certificate
Copy of Club/Association/Activity/Event's certificates (if available)
Copy of MyKad
Copy of father / mother / guardian's MyKad
Copy of father / mother / guardian's 3 months pay slip
Testimonials and/or references relating to the relevant study, co-curriculum activities and achievements (if available)
Processing fees payment receipt of RM30
Payment make to: CIMB Bank | SmartAge Group Sdn Bhd | 8009884087
STEP 2:
Send your documents payment receipt via email to scholarship@smartage.group.

STEP 3:
Only successful applicants will be notified and called for interview within one (1) month after the closing date.
Good luck and all the best with your SmartAge Group Elite Scholarship and we look forward to assist you with the application!

SmartAge Group
Att: Scholarship Unit
P. O. Box 8175, PO Kelana Jaya,
46783 Selangor, Malaysia.
Email: scholarship@smartage.group



Disclaimer: SmartAge Group reserves the rights to decide the number of scholarship to be awarded and the offer given to the individual applicant either full or partial scholarship.